Locally Owned and Operated
LICENSED, BONDED & INSURED
Rooter, Plumbing, and Septic Services in Eugene, OR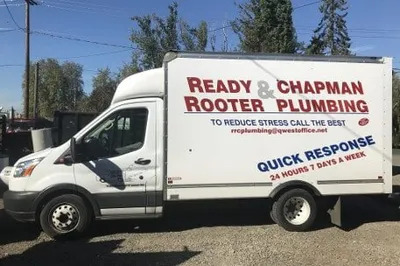 Ready Rooter & Chapman Plumbing is the only company in the Eugene, Oregon, area that provides rooter, plumbing, and septic services under one roof. We are one company with three branches (Ready Rooter, Chapman Plumbing, and Thompson Septic) serving Lane County, OR, since 1946. We provide residential, commercial, industrial, and remodeling plumbing needs. Thompson Septic is affiliated with Ready Rooter and Chapman Plumbing.
We offer emergency services 24-hours a day, 7-days a week. We are always on call for your septic, rooter, and plumbing needs. 
Contact us right away at (541) 744-7991 if you have an urgent problem.
Whether you have a plumbing problem in the kitchen, bathroom, or under the ground, call Ready Rooter & Chapman Plumbing for all of your needs.
Sinks
Toilets
Tubs
Water Heater Repairs & Replacement
Main Line
Storm Drains
Hydro Jetting
Line Locating
Video Inspection
Sewer Installation & Repair
Gas Piping & Conversions
Ready Rooter & Chapman Plumbing offers a 1-year warranty on plumbing parts and labor. We provide free estimates on all of our services. We also offer senior and military veteran discounts. Contact Ready Rooter & Chapman Plumbing at (541) 744-7991 for emergency services or to schedule an appointment.
We proudly serve Eugene, Springfield, Albany, Corvallis, Cottage Grove, Creswell, Junction City, and the surrounding areas.
This company is the BEST!! Last year they repaired a broken pipe in my yard. They were on-time, fast, courteous and their cost was extremely fair! Today I had them out to look at a drain that I thought needed to be rooted out. It didn't; it only needed to be cleaned. They cleaned it, gave me some advice and were on their way. Amazing guys and company—thank you so much!!!
This company has been in my home twice and fixed three things. They did a great job and they charge a reasonable rate. Also I asked them to do something and after diagnosing it they told me I didn't need it. Many companies would just do the work and charge me because I asked, whether I needed it or not. They also put booties on their shoes and cleaned up after themselves so it looked like nobody was even there. I would highly recommend them and I will call them any time, God forbid lol, I have plumbing or septic problems.
They work hard and do a good job, even on holidays.
Once again great job done, thanks! Even snow and ice did not stop you long.
Chapman Pluming simply the best! I started a commercial project involving a grease trap, 100 feet of trenching, 5 sinks, floor drain, and a larger water service. I originally hired a small independent plumber in the beginning (trying to save a few dollars), and it was a huge mistake. After numerous failed city inspections on the first plumber's work, I called Chapman Plumbing. Jeff came right away to assess the situation and give me a quote on a Friday morning. I felt at ease that they had plenty of skilled staff and lots of equipment. I hired them on the spot. Their army of plumbers arrived on Monday morning and completed the job in three days. I'm happy to have found a reliable plumbing company that I can call for all of my future plumbing needs!
Had a complete shut down of my septic system. Chapman Plumbing sent out a competent plumber to assess the situation and provide an estimate of the work that needed to be done to rectify the situation. I had also called another "septic specialist" and they suggested to start by pumping the tank, and then they would asses the situation. Long story short Chapman Plumbing fixed the system for less than the cost of the pumping alone. They also spent the time to improve a couple of minor aspects of the system that the original contractor missed. Thank you Nate, and Chapman Plumbing for providing great service. Good to have a plumber I can trust!